The University of Havana or UH (in Spanish, Universidad de La Habana) is a university located in the Vedado district of Havana, Cuba. Founded on January 5, 1728, the University of Havana is the oldest university in Cuba, and one of the first to be founded in the Americas.
Upon returning from a week-long academic exchange visit to Cuba, Interim University President James E. Lyons has announced the recent signing of a Memorandum of Understanding between the University of the District of Columbia (UDC) and the University of Havana, indicating that both institutions desire "to establish collaborative relations between the two universities to promote friendship and to cooperate in a mutually beneficial association."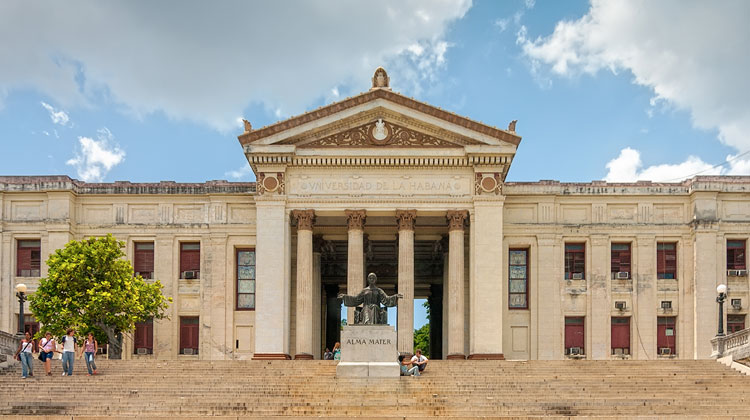 The agreement with the only public university in the nation's capital was adopted by Lyons and Havana University Rector, Gustavo Jose Cobreiro-Suarez, and preceded by approximately one week Wednesday's announcement by President Barack Obama that the United States and Cuba have agreed to open embassies in each other's capitals and re-establish diplomatic relations for the first time in half a century.
Lyons describes the University of Havana, founded in 1728, as the island nation's premiere scholastic institution and one of the first to be founded in the Americas.  He says the two universities have agreed to develop an exchange program among their academic and administrative staffs; researchers; visiting scholars; and graduate and undergraduate students.  He says collaborations are expected to begin in January, 2016.
"The initial areas of agreement will be between UDC's David A. Clarke School of Law and the Law College at Havana University, where Fidel Castro attended law school more than 70 years ago," says Lyons. "It was a privilege to spend several days at the law school, where we were briefed by the faculty on the Cuban constitution and statutory laws, their judicial system and several other substantive areas."
Head over to HBCU Lifestyle to read more.
Like HBCU Buzz on Facebook. Follow us on Twitter.