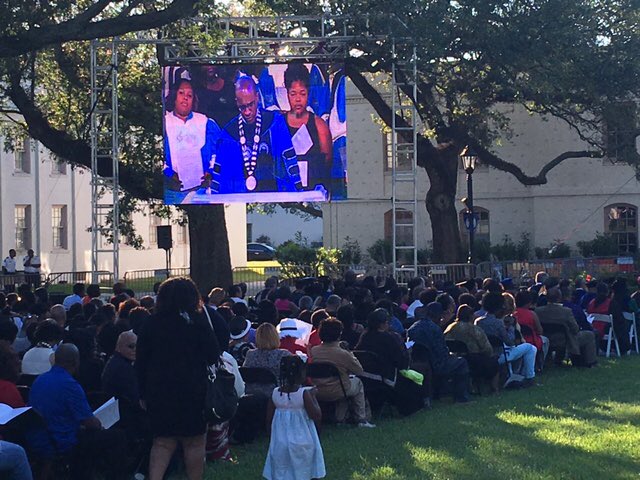 Dillard University held its 80th commencement and awarded more than 200 graduates with their degrees on Saturday on campus. Actor and TV personality Terrence J also gave an inspiring address to graduates and their families on a beautiful day at the black college.
"I was nervous about my speech until I realized most of you grads are drunk," said Terrence J. The Dillard University official Twitter account tweeted the place to be on Saturday was definitely under the oak on campus. The Twitter account also reminded graduates they are a family, and though "families go their separate ways" Dillard will always and forever be a home away from home.
"Give of yourselves to the world, and remember to give back to Dillard in whatever way you can. Inspire the next generation of Bleu Devils."
Check out the tweets below.
— Dillard University (@du1869) May 7, 2016
I don't know where you were, but the place to be was under the oak at Dillard University. Thank you to @TerrenceJ for his inspiring words.

— Dillard University (@du1869) May 7, 2016
The real journey begins now. But never forget the foundation that was laid here at #FairDillard. Our relationship with you has just begun.

— Dillard University (@du1869) May 7, 2016
You were not a number here, you were family. Families go their separate ways, but know that you can always come home. #myDU

— Dillard University (@du1869) May 7, 2016
Lots of Dillard grads, alums and fans also thanked Terrence J on Twitter for his inspiring words and giving a great address at the university.
Thinking about the speech @TerrenceJ gave to #myDU yesterday and it has me thinking in a more positive way that I've never thought of.

— Simply [Dani G.] Me (@me_ambiciosa) May 8, 2016
@TerrenceJ gave a great address to @du1869 #DU2016 It was great having you at our Commencement pic.twitter.com/mklpfLluv6

— Marc A. Barnes (@realmarcbarnes) May 7, 2016
Shout out to the Class of 2016 at Dillard University!