---
5:20 p.m. UPDATE: The University of Louisiana System Board of Supervisors appointed Rick Gallot as the next president Grambling State University. The Board appointed Gallot by unanimous decision.
The UL System Board appoints @RickGallot as the next president of @Grambling1901. pic.twitter.com/N4iu0DyvJZ

— UL System (@ulsystem) July 26, 2016
Gallot, who is a Democratic departing member of state Senate, and also a graduate of Grambling State, will lead the black college after former president Willie Larkin stepped down in February.
---
[Original story, published at 1:12 p.m.]
Grambling State University is expected to announce a new president Tuesday.
In June, Grambling State University President Willie Larkin stepped down after less than a year at the helm.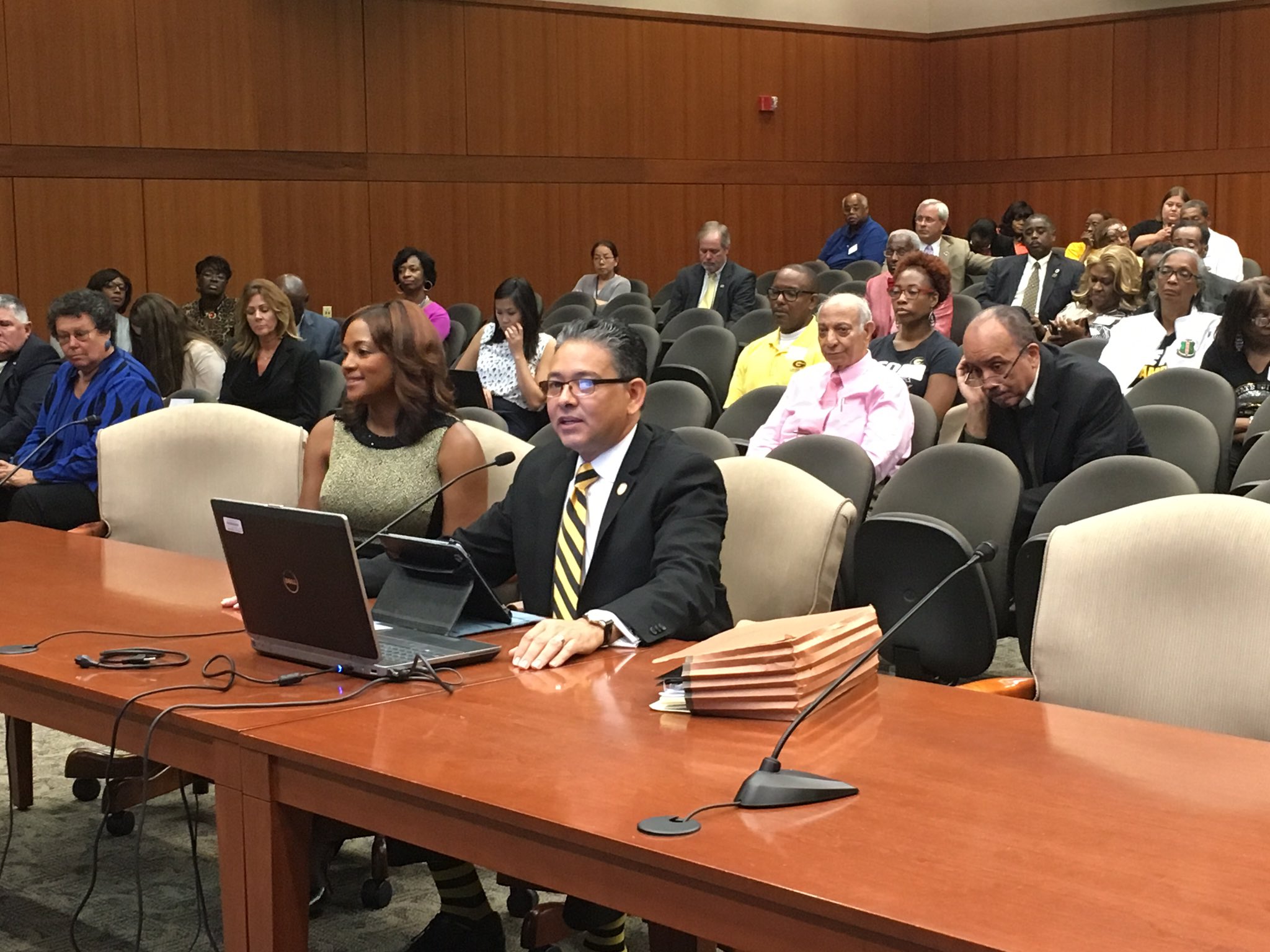 The resignation came after faculty at Grambling voted "no confidence" in Larkin. From The News Star:
There appeared to be a growing disconnect between some faculty members and the administration just months into his presidency. In February, Grambling's Faculty Senate voted "no confidenc"' in Larkin, citing "a vague administrative response to pressing issues such as falling enrollment, fundraising and the loss of the school's nursing program."
The new leader of the black college will be at least the 10th president in the last 25 years, according to UL System President Dan Reneau, Leigh Guidry says in a post to her personal Twitter account.
Reneau added that "that's not stability."
Griffin: My daughter is a senior at @Grambling1901. She's had a new president every year. I'm concerned #HBCU

— Leigh Guidry (@LeighGGuidry) July 26, 2016
Follow here for updates, or follow Leigh Guidry on Twitter @LeighGGuidry.
After what BoS jokingly called Gallot's "brief" statement, @ulsystem going into exec session to interview for @Grambling1901 #HBCU

— Leigh Guidry (@LeighGGuidry) July 26, 2016
More on Gallot: attorney in Ruston, Democratic departing member of state Senate (District 29), @Grambling1901 and @SouthernU_BR grad #HBCU

— Leigh Guidry (@LeighGGuidry) July 26, 2016
Rick Gallot lists his relationships with @Grambling1901 and Louisiana legislators among his strengths for prez @JBCU pic.twitter.com/UkZi9gBzoI

— Leigh Guidry (@LeighGGuidry) July 26, 2016
Some applauded as Rick Gallot and wife enter. He's got on his black and gold @Grambling1901 #HBCU pic.twitter.com/5HTUKiOFjj

— Leigh Guidry (@LeighGGuidry) July 26, 2016
Two @Grambling1901 candidates can give a public opening statement with @ulsystem. Looking for Rick Gallot now. #HBCU

— Leigh Guidry (@LeighGGuidry) July 26, 2016
Now Dr. Gilbert Rochon nominated/recommended for @Grambling1901 prez. Nominations closed. #HBCU

— Leigh Guidry (@LeighGGuidry) July 26, 2016
Rick Gallot has been nominated/recommended for @Grambling1901 prez #HBCU

— Leigh Guidry (@LeighGGuidry) July 26, 2016
With unanimous roll call vote @ulsystem BoS suspends policy in filling vacancies to be able to name @Grambling1901 prez today #HBCU

— Leigh Guidry (@LeighGGuidry) July 26, 2016
Also on today's @ulsystem agenda: evaluation of campus presidents at @McNeese, @nsula and @ULLafayette #LaEd #HBCU

— Leigh Guidry (@LeighGGuidry) July 26, 2016
Looks like Dan Reneau will be interim prez of @ulsystem longer. Naming new system prez not on today's revised agenda. Just @Grambling1901

— Leigh Guidry (@LeighGGuidry) July 26, 2016
Woman asks @ulsystem why there is a revolving door at @Grambling1901. Are there benchmarks? What are you doing on your part? she asked #HBCU

— Leigh Guidry (@LeighGGuidry) July 26, 2016
Another person voicing support for Rick Gallot and the quick search process. "Time is running out" for @Grambling1901 #HBCU

— Leigh Guidry (@LeighGGuidry) July 26, 2016
GSU student leaders address @ulsystem. Leader says wants student voice to be strong. "We are @Grambling1901" #HBCU pic.twitter.com/IiPRKfazx7

— Leigh Guidry (@LeighGGuidry) July 26, 2016
Woman speaking now: New prez must understand uniqueness of La, of @Grambling1901 & of politics in La. We want to see an alum (as prez) #HBCU

— Leigh Guidry (@LeighGGuidry) July 26, 2016
Man speaking now: "I support your process, support your board and thank you for moving on this." Says urgent. @Grambling1901 #HBCU

— Leigh Guidry (@LeighGGuidry) July 26, 2016
Cheryl Johnson calls for respect for @Grambling1901 when talking about "her" publicly. Says heard too much negative about it #HBCU

— Leigh Guidry (@LeighGGuidry) July 26, 2016
More comment cards have been turned in to talk about @Grambling1901 presidential vacancy before @ulsystem #HBCU

— Leigh Guidry (@LeighGGuidry) July 26, 2016
Public calling for "best educational leader, someone who knows about education" for @Grambling1901 during comments now #HBCU

— Leigh Guidry (@LeighGGuidry) July 26, 2016
Thomas Jones w/ @Grambling1901 Nat'l Alumni Assoc: We understand search process may be different than last time, but it's a diff time #HBCU

— Leigh Guidry (@LeighGGuidry) July 26, 2016
Hebert: "We know @Grambling1901 must succeed. It will fail, as long as I'm in this board, over my dead body" #HBCU

— Leigh Guidry (@LeighGGuidry) July 26, 2016
.@ulsystem member Gerald Hebert says GRAD Act from #lalege caused huge demise on enrollment/finances at @Grambling1901 & UNO, not BoS #HBCU

— Leigh Guidry (@LeighGGuidry) July 26, 2016
Davis: This board should take 75% credit die failure at @Grambling1901 #HBCU

— Leigh Guidry (@LeighGGuidry) July 26, 2016
Former student class prez Tyrone Davis says "searching" and naming new @Grambling1901 prez in 4 weeks is "unacceptable" #HBCU

— Leigh Guidry (@LeighGGuidry) July 26, 2016
Carter: "No programs, no students, no @Grambling1901. Next president must be Jesus – or a known problem-solver, innovative educator" #HBCU

— Leigh Guidry (@LeighGGuidry) July 26, 2016
Mr. Carter: Last 25 years been a revolving door. Each time a program is dropped a part of @Grambling1901 dies #HBCU pic.twitter.com/6fcJBGX3Y3

— Leigh Guidry (@LeighGGuidry) July 26, 2016
Some speaking against choice to not do national search. Woman speaking now for that decision. Supports Rick Gallot for @Grambling1901 #HBCU

— Leigh Guidry (@LeighGGuidry) July 26, 2016
.@ulsystem to hear from 11 folks who filled out comment cards to speak about @Grambling1901 #HBCU

— Leigh Guidry (@LeighGGuidry) July 26, 2016