#HowardMedicineMatters is an effort to save the Howard University Hospital and College of Medicine from GREAT danger.
If you are a student or graduate of a historically black college of university,  you should know that the nation's only HBCU, teaching-hospital and College of Medicine are in jeopardy.
Here is a synopsis of what is going on in layman's terms:
There is a new "East End" hospital coming to the Washington D.C. metropolitan area.
When the city was accepting proposals for this hospital, Howard University submitted an awesome proposal. So great in fact, that major elements of this proposal were accepted but there is one issue: HOWARD UNIVERSITY HOSPITAL WAS NOT SELECTED!
Can you believe the George Washington team was selected!!!?
We are NOT completely surprised either, that the Howard University team was shut out. This is sad. This is also mirrors a pattern history books have shown us far too long.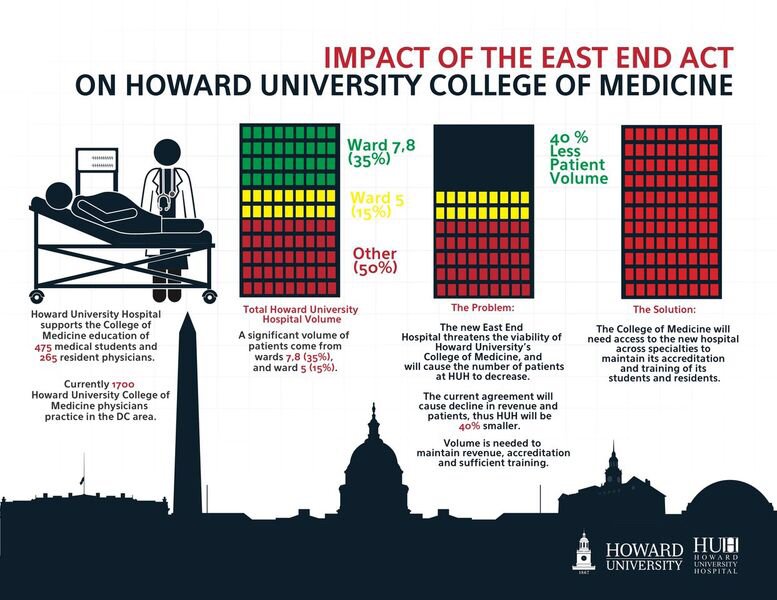 What does this mean?
Currently, Howard University Hospital (HUH) is the only Level 1 trauma center in the area.
For medical students, in order to become certified in a sub-speciality, the students have to have a facility to learn in, that will grant them a certain amount of exposure to their specialty. Currently this is HUH.
Example: Let's say a student is studying to be an OBGYN. The requirement may be for him/her to view/assist 100 baby births. Currently, this is possible at HUH. With this new hospital coming to the area, business/resources will be greatly impacted. The new hospital will impact the types of patients HUH receives as well as the volume. After the new hospital opens, the student may only be able to view/assist 50 births due to the volume of patients the new hospital pulls …therefore meaning it will be much harder for students to execute, learn, and become the top-producing African American physicians that HU is know for creating, because the exposure will ultimately be impacted.
Did you know that right now there are 1,700 physicians working in the city that were trained at Howard University! Why would anyone cut the production of this pipeline of professionals?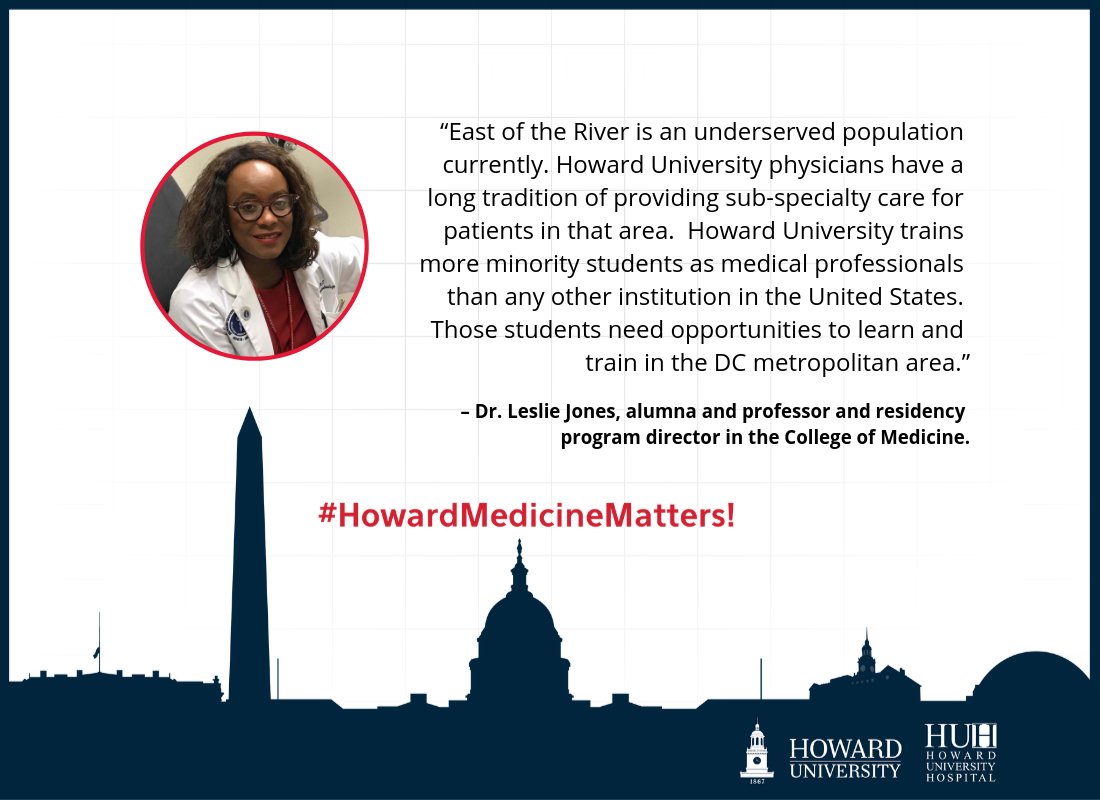 What do we want?
Don't be confused… the new "East End" hospital is a wonderful possibility and Howard University stands in full support of increasing the medical access to DC residents in Wards 7 and 8! This is their mission, they would never want to impede that! Howard University simply wants access for its medical students so they are afforded the opportunity to learn in the new, cutting-edge hospital too. HUH has already pioneered the medical movement in Wards 7 and 8 and it seems unfair that they would be cut-out of any proposal that directly supports the mission of HUH….. Not to mention Howard essentially submitted the winning proposal in the first place!
Social Media Movement:
Share your sentiments on social media using #HowardMedicineMatters. Tag @MayorBowser, tag @HowardU.
Tell:
.@MayorBowser, @HowardU students deserve a seat at the table. #HowardMedicineMatters Allow the Black students at the only HBCU hospital access to new opportunity TOO!
#HowardMedicineMatters, @MayorBowser, there is blood on your hands if the @HowardU Hospital and College of Medicine lose accreditation or close! REWRITE the proposal to include Howard. EQUAL OPPORTUNITY FOR ALL!
Take action:
Sign the petition!!
Read the Howard University News Release, then:
On Monday, December 3rd, 2018 at noon, rally in front of HUH to show you support equal access and opportunity . hu students need access to learn from new facilities too!

…medical students of all disciplines

…medical professionals,wear your scrubs

all those who support, come out and rally.
We cannot let the current deal pass.
The council vote is December 4th. We have one day to make Mayor Bowser realize the impact of this potentially fatal decision.
Just write Howard into the current proposal. That is all we want.