Life Lessons and Life Blessings: Korey Wise urges youth to "listen to your first voice"
The University of Maryland Eastern Shore's Ella Fitzgerald Center for the Performing Arts held over 1,000 people who sat in piercing silence as Korey Wise of the Exonerated Five shared his painful and triumphant journey from wrongfully convicted child to exoneree with an Emmy-winning story on Feb. 20.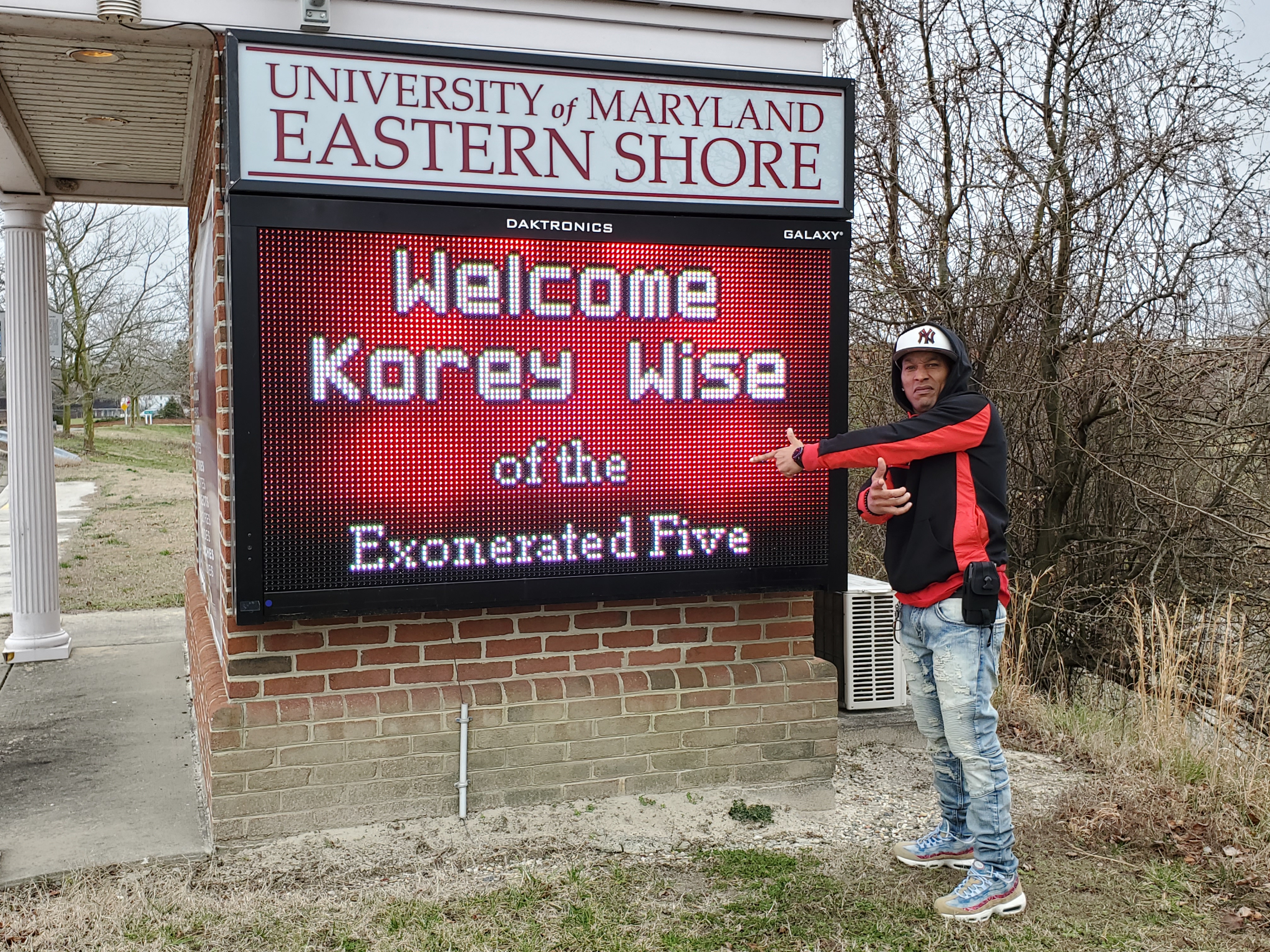 At the age of 16, Wise was one of five New York City teens wrongfully accused and convicted of the 1989 rape of a white female jogger in Central Park. He was the only teen sentenced as an adult to serve five-to-15 years in prison. 
Wise, a criminal justice reform advocate, visited the historically black university in Princess Anne, Md. as the Black History Month guest speaker for the event titled "Life After Injustice: A Conversation with Korey Wise." Following a student's introduction, the night began with Wise's surprise entrance as he emerged from the audience although they were expecting him to make a stage wing entrance. "I have to feel their energy," he said. Previously, he had been sitting among the crowd during a soulful rendition of "Lift Ev'ry Voice and Sing," the Black National Anthem.
"This is a once in a lifetime event. His story is true. Him here at an HBCU, we need more stuff like this," Daronn Wright, an attendee, told local media in anticipation of Wise's message.
During the moderated conversation, Wise responded to questions that were submitted by the audience. He began by thanking Matias Reyes, the culprit of the near fatal attack, whose confession removed Wise from nearly 14 years of daily torment.
"If he never said nothing to me, my five to 15 would have turned into 15 to Life," said Wise.
The audience included local community groups, schools, attendees from Maryland's Department of Juvenile Services, Salisbury University, and Wor-Wic Community College.
Social media overflowed with messages of gratitude and excitement for the opportunity to hear from Wise. "2.20.20 will go down in the books as one of the best," said Dom Scott. "I was so hyped that my question was chosen to ask Korey Wise," said Talonda Brown.
The question was "what would you say to your 16-year-old self?"
"Listen to your first voice. Not your second voice, not your third voice. Listen to your first voice," Wise answered urging the youth in attendance to be careful about decision making and knowing your friends.
Read more via Tahja Cropper's original story in the UMES Newsroom.